Services
Plumbing Services and Service Plumbing
Your first Choice for Repair Plumbing, Water Heater Repairs and Drain Cleaning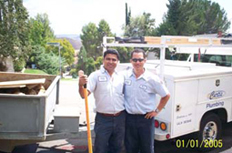 When you need prompt repair plumbing, water heater repairs or drain cleaning in Studio City, you should feel confident choosing a plumber who is reliable and trusted by home owners and local businesses. Curtis Plumbing in Studio City has had plumbers serving the Studio City area for 72 years while using the most technically advanced repair, plumbing, water heater repair and drain cleaning equipments and techniques.  Although there are a lot of companies that offer service plumbing in Studio City, Curtis Plumbing stands out for its methods of plumbing services in Studio City. The following paragraphs elaborate more on the plumbing services rendered to clients within and outside of  Studio City.

One of the plumbing services in Studio City that Curtis Plumbing offers is sewer inspection.  As a service plumbing in Studio City, Curtis Plumbing inspects the equipment of their clients. This is the first step to correct a problem. This enables us to know the exact issue with the equipment. We do this by using high tech plumbing and cutting edge technology equipment which at the same time would save the client money.  One of the types of equipment used in this area is the DrainVision Sewer Camera. This is because most of the inspections would be done by video. This would enable us to identify what is wrong with the item and work towards resolving it.

We also offer plumbing services in Studio City for water heaters, which in this case could be storage water heaters, demand (or instantaneous) water heaters, heat pump water heaters, indirect water heaters, and solar water heaters.

We also offer plumbing services in Studio City for leak detection and garbage disposal repairs. We offer services for earthquake valves, and give instructions on how to operate them if the need arises. An Earthquake Valve is an instrument that automatically shuts off gas when an earthquake occurs.

If you live in Studio City and you are in need of full service plumbing in studio city, Curtis Plumbing should be your first choice for repair plumbing.  Do not hesitate to contact Studio City Plumbing at 800-729-8149. We are eagerly awaiting your call!